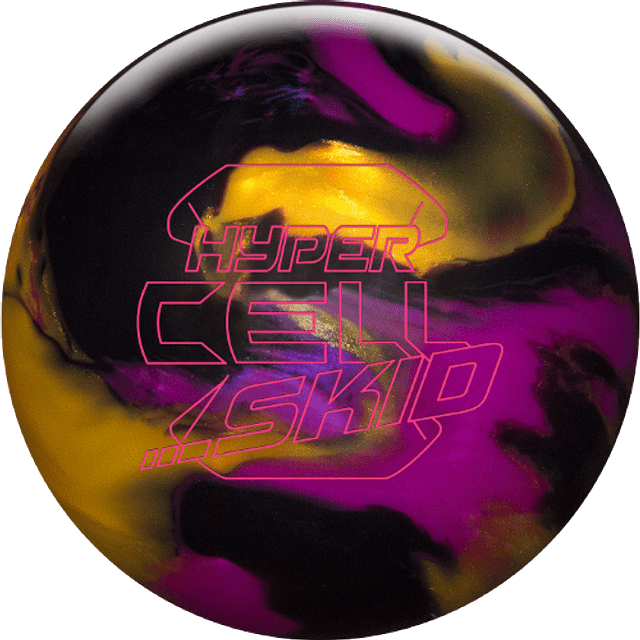 Retired
Cover

73 MH Pearl

Factory finish

1500-grit Polish

Color

Black / Gold / Violet

Core (15 lb)

Nucleus

R.G. / Differential / Bias

| | | | |
| --- | --- | --- | --- |
| 16 lb | 2.520 | 0.048 | 0.017 |
| 15 lb | 2.520 | 0.056 | 0.018 |
| 14 lb | 2.570 | 0.046 | 0.015 |
| 13 lb | 2.570 | 0.032 | 0.010 |
| 12 lb | 2.590 | 0.029 | 0.008 |

Release date

January

6

,

2015

Balls with the same cover

This is the only ball in the Bowlidex with the 73 MH Pearl cover.

Balls with the same core

These balls have the same 15-lb Nucleus core as the

Hyper Cell Skid

:

From the manufacturer

They say I make it look easy. That's because it is — for me. I was built for this, and my competition simply can't keep up. My legendary Nucleus™ core combined with my silky smooth pearl coverstock carry me downlane as I build up my power, waiting for the perfect moment to charge. Sure, I'm a superhero, but when you've got this much going for you, greatness just comes naturally.

Like all superheroes, I'm adaptable and ready to make an impact thanks to my time-tested Nucleus™ core. No matter how I'm drilled or thrown, I'm going to deliver a crazy heavy roll that'll send the pins flying and the bad guys heading for the hills.

I might be a superhero, but that doesn't mean I need to charge into the fight fists ablaze. I've got the power and I know it, so I stay cool and collected downlane with my pearl cover until the time is right to punch through with all my superhero strength.

Sinister™ and Hyper Cell™ like being the first ones to the fight, and that's just fine with me. Once the lane starts breaking down and their aggressiveness becomes too much, I'll step in with my 1500-grit factory polish and finish the job with style.

Status

Retired. This ball is no longer produced by the manufacturer, but it may still be available at pro shops and online retailers in limited weights.